July 19, 2016, (Westfield, Indiana) – In a proactive move to provide their students with the highest level of safety available, IPS, the largest school district in Indiana, rolled out the first of 100 new school buses outfitted with IMMI's SafeGuard® lap-­‐shoulder seat belts for the media on Friday.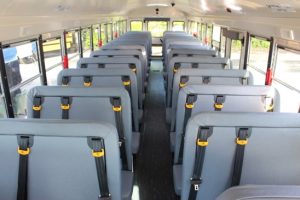 The new, more fuel efficient buses are manufactured by IC Bus and come equipped with exclusive BTI Seating. These kinds of seats not only offer SafeGuard three-­‐point lap-­‐shoulder belts to keep students safer and better behaved, they're also easier to configure and repair which will save the district money.
"I applaud this initiative because it's truly a decision that puts the wellbeing of our students first," said Indianapolis Mayor Joe Hogsett.
Last year, NHTSA administrator Mark Rosekind challenged school districts across the country to add seat belts to their school buses, and Indianapolis is one of the first, and largest, districts in the country to heed the call.
"What we do know about safety and the restraints that we have, is not only is it an opportunity to keep the students in their seats, but when students are in their seats there's a dramatic reduction in behavior issues, bullying, those types of things, so this is a great opportunity," Dr. Lewis Ferebee, IPS Superintendent said.
"This is a great day for IPS students and their families, but also for Indiana," said IMMI President Tom Anthony. "We're proud to partner with a district the size of IPS, especially in our home state, as they lead the charge to keep students safer on the school bus by adding seat belts."
SafeGuard seats are completely designed, tested, and manufactured in Westfield, Indiana, by IMMI®, the leading provider of seat belts on school buses in the country. IMMI is also the largest manufacturer of child safety seating components in the world. If you would like to learn more about SafeGuard, please visit SafeGuardSeat.com.
About IMMI
IMMI®, based in Westfield, Ind., is the leader in the design, testing and manufacturing of advanced safety systems. IMMI produces hundreds of innovative products for various industries, including the school bus, commercial vehicle, fire/ambulance, child seating, military, off-­‐road, UTV, outdoor, and motorcoach industries. IMMI is also home to CAPE®, the Center for Advanced Product Evaluation, an award-­‐winning crash test facility. Privately owned and operating facilities in North America, Asia and Europe, IMMI is dedicated to Bringing Safety to People® around the world.